One of the inspirations for the Guest Room Refresh came from a collection of vintage linens I got from my grandmother. They weren't in great shape, though, so I'll show you how to care for and clean vintage linens, and how to use them to dress a cute bed — and make a room extra special.
This week was all about the beds, bedding, and a lot of time with my sewing machine. I don't mind any of that, though!
As I have said before, we chose two twin beds for the Guest Room Refresh. This is the best configuration for a guest room if your room is large enough. We find we can accommodate more groupings of guests comfortably with twin beds, and hopefully our guests feel at home.
Before we began, I had white fitted sheets, pillowcases, and one twin duvet cover. I also had a pile of vintage linens from my grandmother's house which I wanted to use. So I set to work creating a cohesive look out of a disparate pile of linens.
The Duvet Covers
We sleep Scandinavian-style in our house. This means no top sheets — just a cozy duvet in a cover and a bottom sheet. Seriously, this is the best thing ever and saved our marriage early on… but I digress. For the One Room Challenge, I had one duvet cover — red gingham from Pottery Barn Kids several years ago. I needed a second one, but PBK has moved to a bigger check in more recent years. So I bought a big check duvet cover in red.
Now I had two that were similar… but not the same.
Solution? I took them apart and sewed them back together. One side is now small check and the other is the big check on each. They work either way, and they match!
My mother thinks we are crazy for sleeping Scandinavian-style, because she thinks changing duvet covers is really difficult. However, long ago I learned a fabulous trick which makes putting a duvet cover on sooooo easy! I made a video this week showing how it is done, and it works for any size duvet cover.
I also created some instructions for making your own duvet cover out of flat sheets. When you go Scandi-style, suddenly you have all of these flat sheets laying around, but they are the perfect raw material for duvet covers which are crazy-easy to make. And if you want to know more about the hygge practice of sleeping Scandinavian-style, I have you covered there, too. Without getting too personal… it is the best way to sleep with any partner and actually get good sleep!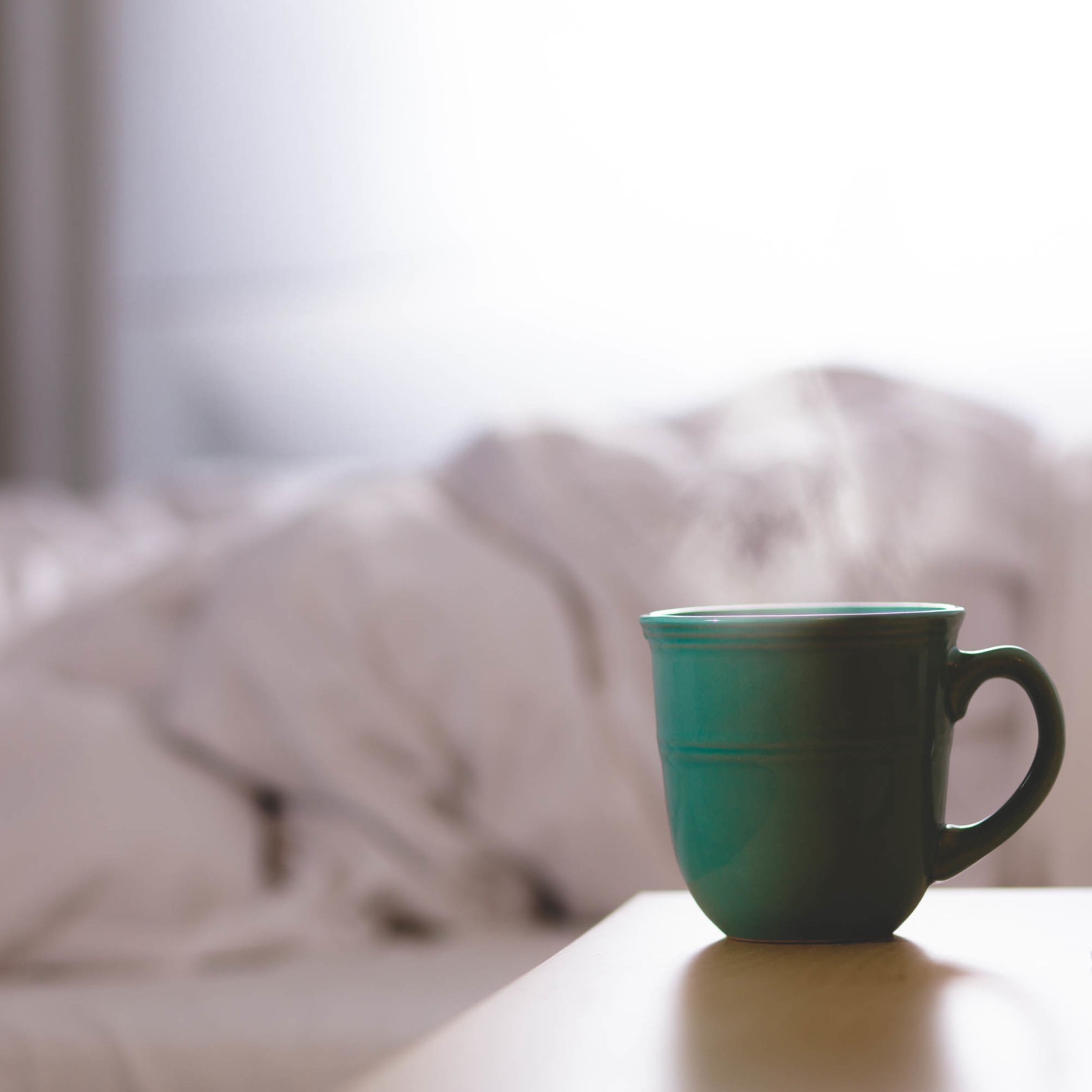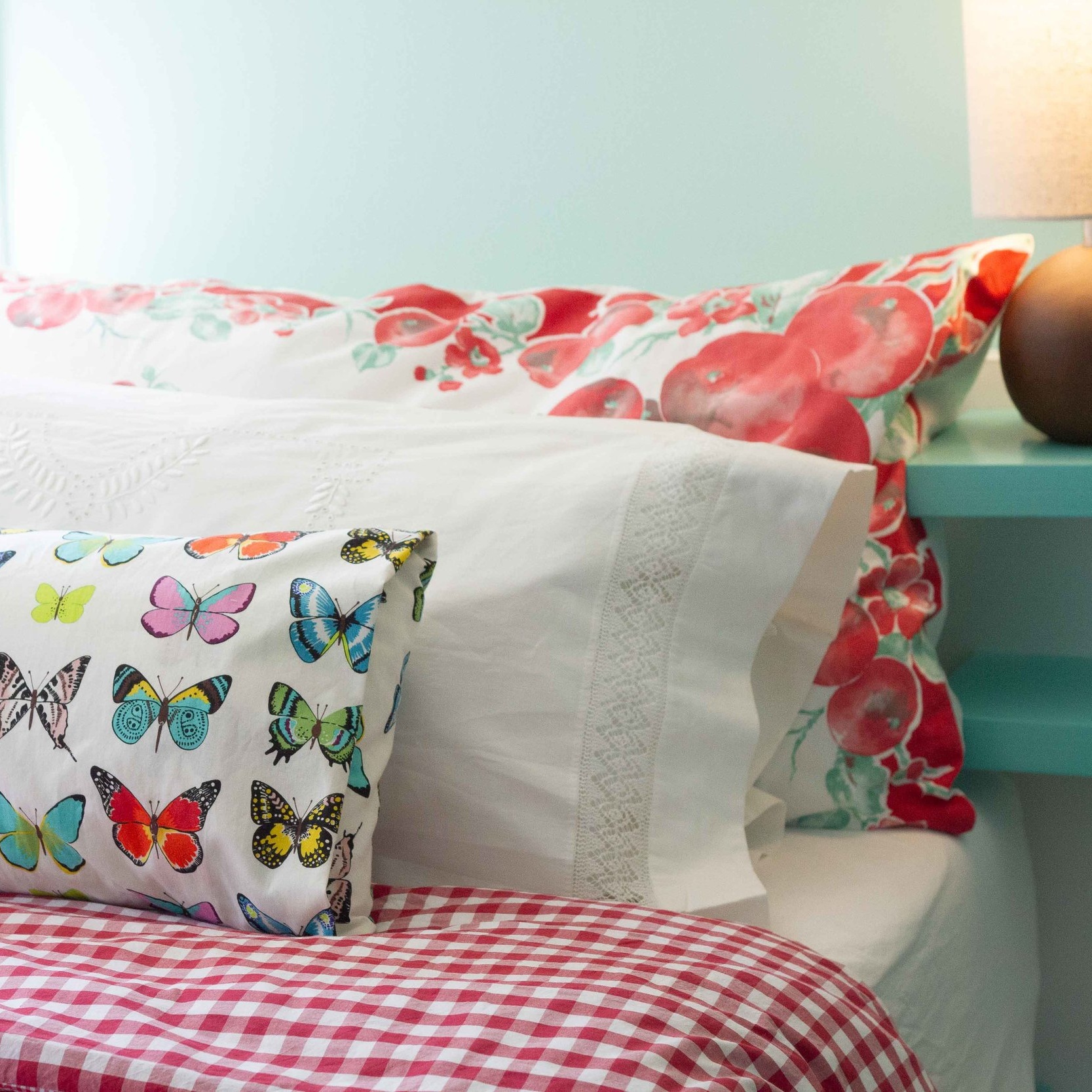 Pillows, Pillows, and more Pillows
With the duvets covered, it was time to move on to the pillows. As I have said before, I have a lovely pile of vintage linens from my grandmother. Amongst them were several sets of embroidered and embellished pillowcases. I didn't want to subject these beautiful pieces to the hazards of drool and sleep. But I wanted to use them, so I devised two different ways to turn these darling pillowcases into throw pillows. Both are simple projects requiring a minimum of sewing and could easily be done by hand. And they look so cute! One set of pillows is embroidered and the other has a vintage handkerchief appliqued on the front.
In addition, I am using a beautiful set of shams, also from my grandmother, embellished with handmade lace. I didn't have to do anything to these other than gently wash and press them. I don't know anything about them, but I wonder if this beautiful set was part of her trousseau.
I love sitting up in bed at night reading, and I wanted my guests to have a comfortable pillow for reading, too. I took a vintage tablecloth with red apples and a vintage flat sheet. Putting them together, I created an extra-large pillow sham for each bed. The shams actually hold two pillows for sitting up comfortably in bed.
And finally, I wanted to tie that beautiful butterfly print into the beds as well, so I made new pillowcases for some older throw pillows that I had. Since there are a lot of fussy details in some of the other bedding, I went for simple and tailored, letting the fabric's pattern do all of the work.
I put together instructions for making all three throw pillows, and two of them can easily be made without a sewing machine: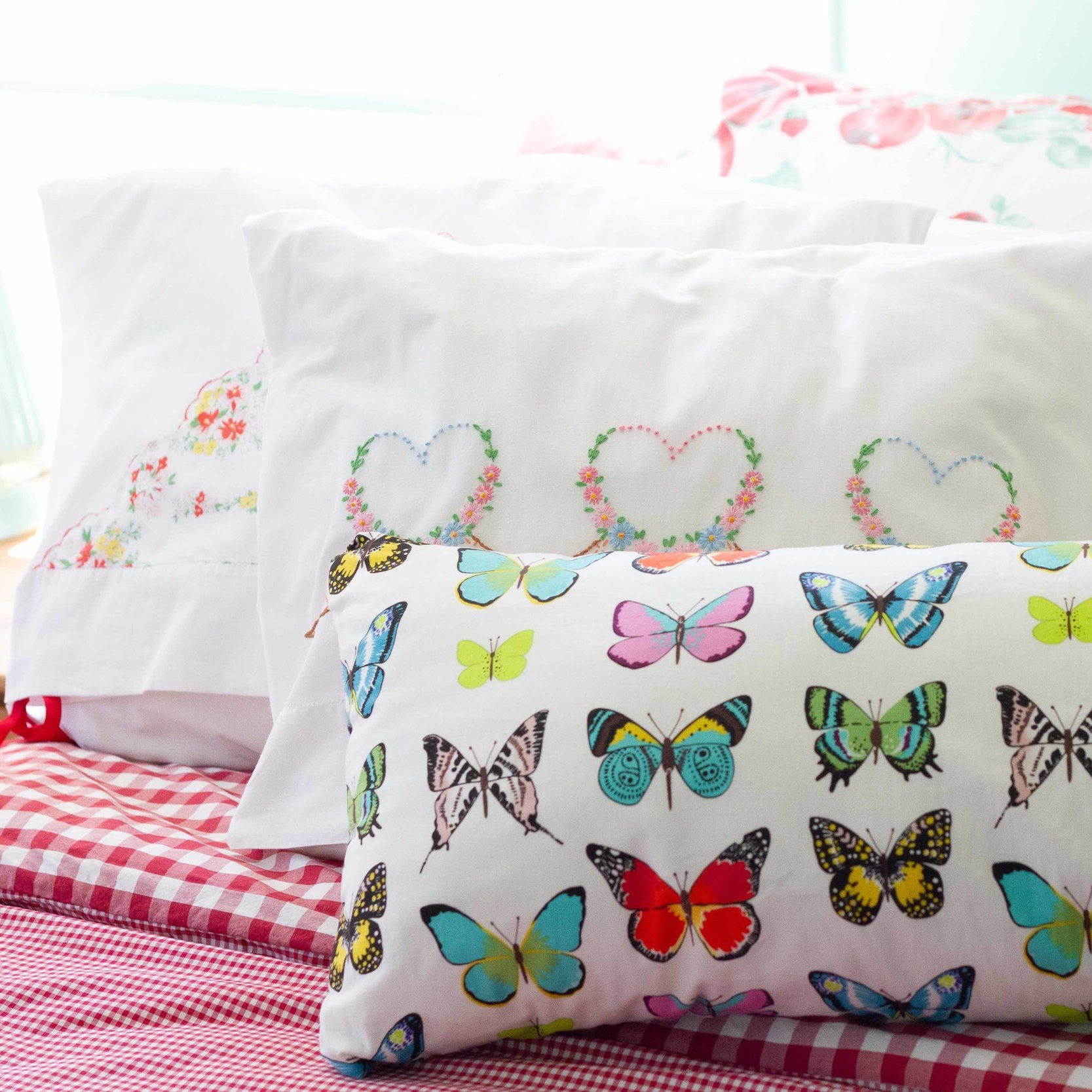 Not only am I using vintage linens on the bed, but I have used a few other items around the room. On the dresser top, I repurposed an embroidered towel as a short runner. The edges were ragged and the embroidery isn't perfectly centered, but I hemmed the two long sides, and created the perfect piece atop the antique dresser.
Amongst the items from my grandmother, I also found a vintage handkerchief from Australia. Given the room's travel and map influences, this needed to find a place in the room. So, I matted and framed it using the same technique I used a few months ago to frame some vintage baby clothes. This is a really simple and easy way to make an impact in a room, and I absolutely love how it looks!
I also created instructions for this project. It was surprisingly simple, and I have ideas for so many more framed treasures!
The next two weeks are all about the finishing touches and making this room a place of rest and peace for my guests. I'm excited to be close to the end, and I can't wait to show you the finished room. Frankly, I can't wait to see it myself!
I hope you will check out all of the project posts for this week, and enjoy a few more peeks into the room. Until this week I was beginning to wonder if the room would ever truly be done. Now I can see the end, and I can't wait to share it with you!
My tasks for the coming week: making this room truly hospitable for guests. More on that next week!
XOXO
A
Bedding & Framing Costs
Duvet Cover (Pottery Barn Kids): $43
Mat for Frame: $32
Total: $75
Pin it!
Don't miss a single update: sign up and each installment of the One Room Challenge will come directly to your email on Thursdays! And be sure to stop by the One Room Challenge Blog to check out the other creative renovations happening across the country. You can also follow #oneroomchallenge and #bhgorc on Instagram for more inspiration! Be sure to follow me, too!
@MidModernMama