Why we don't do birthday presents and ask for donations instead
We have one child. We love celebrating his birthday. We throw really fun parties. We build pirate ships in our backyard.
Seriously. We DO birthdays.
But each year when we send out invitations to Bambino's birthday bash, we say:
Your presence is the only gift we need!
We have done this since Bambino's second birthday, so it is simply a part of our family fabric. I plan birthday giving for months and love to find the perfect gifts. We have a large family, and some of them enjoy giving gifts, too. But beyond that, Bambino doesn't need anything else.
We work hard to fight the materialism and wastefulness so prevalent in our culture. And we want to prevent birthday overload. Birthdays for our family are a celebration of people and time -- not of stuff. We have plenty. And our parent friends and family don't need to go scurrying off to find another birthday gift. So we are a no-gifts-please home.
But it isn't just no gifts. People love to be generous at birthdays, so we follow it with something like this…
Please consider donating what you would normally spend on a gift for Bambino to the World Wildlife Fund. Bambino loves animals and wants to support the conservation of sea turtles and tree frogs in their habitats this year for his birthday.

You can donate online, or if you prefer to write a check, we will have a basket for donations at the party which we will happily mail for you!
Donate instead!
Part of planning Bambino's birthday party each year includes choosing his birthday beneficiary. We have a family discussion about helping others and who Bambino would like to help. We address this in age-appropriate ways and try to connect it to something he understands. One year he chose a local children's hospital where my husband was designing an addition -- he was helping sick children. Another year it was Carry the Future, an organization that supports refugees -- he was giving mamas baby carriers and diapers. This year, probably inspired by our trip to Belize, he wants to help sea turtles and tree frogs, so we are raising money for the World Wildlife Fund.
Last year one of Bambino's classmates held a lemonade stand before the birthday party, and she brought her proceeds to donate. In total, our family and friends were so generous that we raised over $800 for our local Ronald McDonald House. My husband and Bambino delivered the checks in person and got a tour so that Bambino could see the kind of good he was spreading in the world. That $800 provided meals and a place to sleep for families with children at Denver Children's Hospital. And we talked about the families that he knows who have needed the Ronald McDonald House at one point or another.
To be clear, this wasn't my brilliant idea. My sister, who does research at a children's hospital, started it with her children, and I followed suit. It helps that Bambino's cherished cousins do the same thing. He doesn't feel at all left out. In fact, we have only had one conversation ever that hinted at regret.
But this is also part of a national movement, and the Peter Pan Children's Fund is an international organization which encourages philanthropy in children using their birthdays to fundraise for children's hospitals all over the world. It's all in the spirit of J. M. Barrie, the author of Peter Pan. Barrie gave the copyright of his celebrated children's book to the Great Ormond Street Hospital for Children in London -- an act of generosity which has helped to ensure care for millions of children over the last century.
If you join the Peter Pan Birthday Club, your child can register their birthday party online and choose a beneficiary from their list of participating hospitals. We did it, and the children's hospital even sent Bambino a Peter Pan shirt in thanks which he wore proudly.
So not only do I hope that we are modeling a less-is-more approach to the world and avoiding the clutter that can come with a flood of gifts, but I also hope we are planting the seeds of generosity and altruism in our sweet boy. Birthdays are certainly times to celebrate, and I will happily bring a gift to your child's birthday party. I will probably monogram something with my Cricut -- just a warning. But this is the path our family has chosen, and it is one which we walk joyfully, hand in hand.
Suggested Wording for Invitations
Looking for a nice way to say "no gifts"? Try one of these suggestions:
Your presence is the only gift we need.

Please, no gifts. Consider a donation instead.

The gift of your presence is enough! No presents, please.

Instead of a gift, please consider donating to…

Please, no gifts! We just want you to come and join the fun!

Your presence is gift enough. We hope you will come to celebrate.

Your gift of time is present enough. No gifts, please.
If you choose to add a fundraiser to your invitation be sure to include the following details:
the beneficiary

How can people give?

Why is this special to your child?

What is your goal?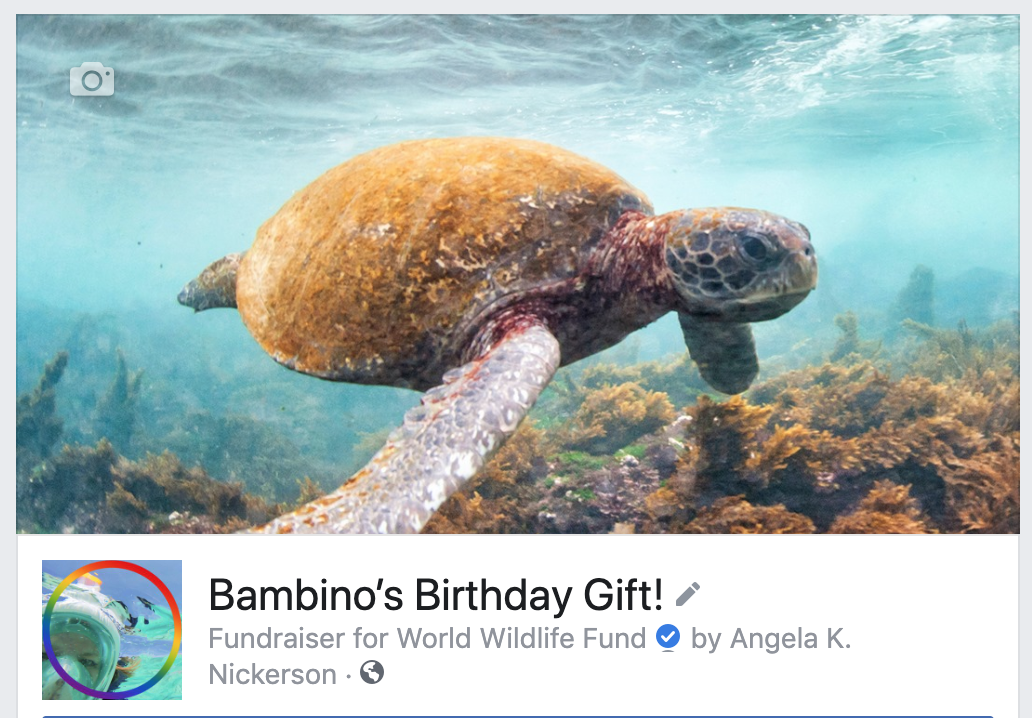 Bambino's Birthday Giving!
Join us in supporting the World Wildlife Fund in honor of Bambino's birthday!
Tips for fundraising
Choose a reputable organization that isn't politically or religiously controversial.

Set a goal! And don't be shy about it!

Start off the donations with your own.

Do it twice! Also create a fundraiser on Facebook. Give people who aren't invited to the party a chance to be generous, too!

Send out a reminder before the party.

Put a basket by the door with envelopes for your guests to drop in cash or checks.

Be sure to send thank you notes after the party!